Advanced Member

(Posts: 176)
Oiram Unlimited CE (An Oiram Hack)
Last edited by Captain Calc on 11 Aug 2021 07:43:51 pm; edited 2 times in total
Oiram Unlimited CE
Greetings, everyone!
I am happy to announce the release of Oiram Unlimited CE! This program allows the user to modify Oiram's stats and abilities for non-password-protected level packs, including lives, suits, coins, and more!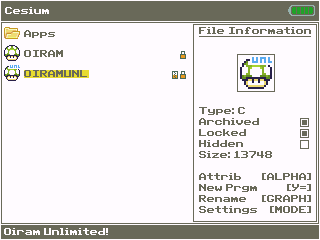 Download:
https://www.cemetech.net/downloads/files/2174/x2400
Source Code:
https://www.github.com/Captain-Calc/Oiram-Unlimited-CE
I would like to thank DrDnar for the inspiration to delve into calculator C++ and MateoConLechuga for graciously allowing me to hack his program.