Official Cemetech Cat Manager

(Posts: 1754)
Last edited by mr womp womp on 12 Jul 2020 07:43:08 pm; edited 2 times in total
Alright, let's talk about TI-80s again. I've been putting off writing this due to time restrictions.
Basically, TI changed the board up like 451289465132 times in the couple first months. When I initially wrote this topic, I assumed that each hardware revision represented the different versions of the hardware, but it turns out TI changed the hardware without changing the HR a bunch of times. I should have caught on to it since I'd noticed that the early and late revision Cs were different, but I didn't. Since then, I've been trying to accumulate every hardware change, but its a complete guessing game, since they all have the same datecodes and hardware revisions, and thus look identical from the outside. (some that I've gathered have different board numbers and are only 100-200 serial numbers apart) I've managed to collect 15 different MB revisions, and I suspect there are some that I've yet to find.
Here are the results, sorted by serial number:
HW Rev A
I-0395A APLMB-30F 2-2
I-0395A APLMB-30F 1-1
I-0395A APLMB-30F 1-4
I-0395A APLMB-30F 1-2
I-0395A APLMB-30F 2-3
I-0495A APLMB-30F A1-4
I-0495A APLMB-30F

HW Rev B
I-0595B APLMB-30F A2-4
I-0595B APLMB-30F
I-0595B APLMB-30F A3-4

HW Rev C
I-0695C APLMB-30F
I-0695C APLMB-30F 2-1
I-0695C APLMB-30F 2-4
I-0695C APLMB-30F A1-2 (Viewscreen only)
I-0196C APLMB-30F A2-4
I-1000C TIAPLMB-31G
What I find strange is that the timeline is very wacky, particularly at the beginning (for example, my 1-2's serial number is 161 calculators after my 1-4, and 2-2 is the oldest by a few weeks). For this reason, its very hard to put together a timeline of what changed in each iteration, but I'll try my best.
Every revision aside from the very last one (a 4 year gap) use phillips head screws on the outside, so they only switched to torx head screws towards the very end of production.
In early March 1995, they removed the solder for the comm circuit. (I've said this before, but non-viewscreens use the same boards as viewscreens except that he comm circuit is populated on viewscreens), of course, if you're not gonna populate the pads, there's no need to solder them up.
Between APLMB-30F A1-4 and APLMB-30F (early and late April 1995), they re-added solder paste to the pad for the SMD resistor "R10", but not the resistor itself.
A3-4 has a big old sticker on the LH5359 ROM chip, its the only revision that has that, it seems to still be a sharp ROM, not sure about the exact chip number since it is obstructed by the sticker.
In late 95 or early 96, they started using a Winbond RAM chip instead of the Seikosha chip they had been using. This coincides with the timeframe when Seikosha split up into multiple companies, so presumably, the supply of RAM chips was affected and TI had to find a replacement.
Interestingly, some but not all later revisions all the way until June 1995 had the pads soldered. Initially, I thought this might have been because they had a lot of APLMB-30F made with the "older" design, but in May 1995, they already started using some of the newer design APLMB-30F boards, so this is a complete mystery to me.
In April 1995, they added some blue tape that they stuck on the ribbon cable. Perhaps this reduces tearing/damage? Either way, by 1996, they stopped doing that, so I guess it didn't really matter
Here they are in order of serial numbers (except the viewscreen, which I don't have with me currently)
An interesting thing to note is that in each hardware revision (A, B and C), there is a board numbered APLMB-30F, but they are not the same board, they just bare the same name, which makes things even more confusing.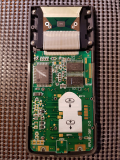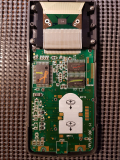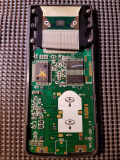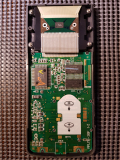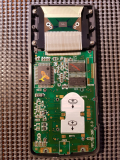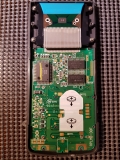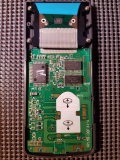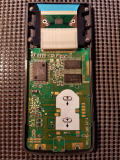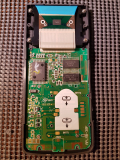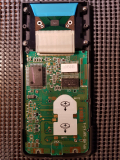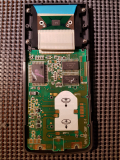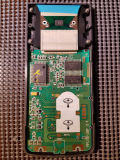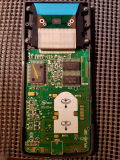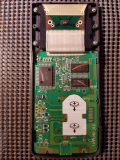 Full-sized pictures of my entire TI-80 collection are available on
my Tiplanet Gallery
As for revisions that I've yet to find:
I've been looking for APLMB-30F 1-3, but I've narrowed it down to a very small serial number gap (03006423 is 1-2 and 03006262 is 1-4), so I'm starting to think that it never made it into MP (since we're talking less than a single production run at this point). It is also possible that they made some in MP, but at a completely different time, since the board numbers seem to only loosely follow numerical order.
I've also yet to find an APLMB-30F A1-1, but I don't even know where to start looking for it, since A1-2 was produced in June 1995 and A1-4 was produced in March 1995.
EDIT: APLMB-30F A1-1 has been found, it seems to only exists in viewscreen variants, which explains why I couldn't find it!