Newbie

(Posts: 35)
Cellar 3D - raycasting based game for TI-84 Plus CE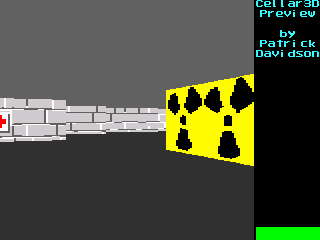 I have just released an initial preview version of a raycasting based 3D game for the TI-84 Plus CE:
https://www.ocf.berkeley.edu/~pad/files/cellar-ti84ce.zip
/
https://www.cemetech.net/programs/index.php?mode=file&id=1588
For now this has only one small level with minimal gameplay (the goal being to escape the cellar before the radioactive waster kills you), but at least it works -- or so I hope! This game is part in C and part in assembly language. Right now it is running about 10 frames per second but optimizations should speed it up -- along with feature additions that slow it down.