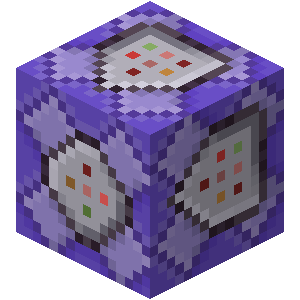 Expert

(Posts: 677)
Some Feedback that Might be Useful at the Next World Reset
So, I had
a bit
a lot of feedback about the server that would be almost impossible to implement until the next world reset, so I decided to make a topic for it. Now, before this gets deleted because there is no world reset planned, I will say that although it might not happen soon, the world will eventually reset. The other alternative is that this world is the last one, and we will never get to play with any fancy new world generation features. 1.13 also seems like it will break plugins along with adding fancy new oceans to explore, so there is a small possibility that the world will need to be reset in order to avoid being stuck on 1.12.2. And before this gets deleted because there is already a suggestions thread, I felt that that one was intended more for changes that could be implemented right away, and thought that it would be better to make a new one for things that specifically relate to a world reset. So, keeping in mind that this post is for major stuff that can only reasonably be implemented after a world reset, hereís my feedback on how this iteration of the server might be improved upon in the next version.
The main reason that I play on the server, and probably the rest of you as well, is to interact with other players on the server. Otherwise, I would just play singleplayer where I have more control over gameplay. However, there are various aspects of the server that make the interaction between players less frequent.
This is probably going to be controversial, but Iím not a fan of teleportation like /home, /spawn, and /t spawn. Wherever you are in the world, it is is directly adjacent to your home, spawn, the nether, and the end. This means that if you want to go to any of these places, you can run a command instead of passing by the bases of other players. Ignoring the elytra (which I will talk more about later), if there were no teleportation commands, you would have to build and use paths going through the bases of others, and you could check out what changed since the last time you passed by. It would also give a purpose to Kermís rail system, which is completely unbalanced compared to teleportation. A system with higher upfront cost, like a railway, should be faster than a system with no upfront cost, like walking or teleporting.
But the elytra also has relatively low cost compared to a rail network, even if you must build gunpowder and sugarcane farms to use it properly, and with it the fastest way to get almost anywhere on the map is to take a direct path, which often skips passing through any base at all. Now, Iím not saying that the elytra should be removed, or the fireworks stopped from giving thrust. First off, as mentioned earlier minecarts are incredibly unbalanced. They arenít really that fast yet require a huge upfront cost. I think that they should be buffed. One way to do this would be to make a plugin modifying the way that furnace minecarts work, allowing them to link a few carts together and travel at real train speeds. I would be willing to make a plugin for this if it is decided this should be implemented.
Second, elytra should be nerfed only for long range travel. The elytra are very balanced in my opinion as long as you only use them for hang gliding. They can save you from falling into lava or from a huge height, and they can provide a boost controlled in direction but not distance, similar to an ender pearl but slightly different, in exchange for a armor slot and a medium upfront cost. One way to nerf only long range flight would be to have each firework deal a heart or so of damage, and stop natural regeneration and make health potions less effective while in midair. Once again, I could write a plugin for this.
Third, elytra could have a difficult condition in order to access them, which the community collaborates on. This is similar to this server iteration, where from what I hear (I wasnít quite around for this bit) the end was closed off for several months after server launch. This gives the players time to make connections like the railway between bases. If combined with #1, players might decide to continue using the rails because it requires less effort (just sit in the cart and it goes rather than using items and needing to steer to move you places.
As for what this condition might be, I was thinking about something similar to what happens on the EVO SMP server.
Hereís Grianís perspective
, which I highly recommend watching at some point if you have not already. Basically, the players are using an beta version of the game, and in order to receive updates they must work together and follow hints in structures left around the world by admins, which lead them to portals to a new version. We could possibly do something similar to access the end and elytra if the admins are willing. You could either set up all of the buildings and clues before the start of the world, or add a building and a hint at spawn occasionally until the end is unlocked. If you chose the first option, it would promote stronger collaboration between players. If you chose the second, it would generate renewed interest in the server every time a new clue is left at spawn. Obviously you would have do something to the DynMap if you wanted to effectively hide the structures, assuming they are above ground.
Okay, time to stop rambling about elytra; that was more than 500 words. Anyways, another thing that I feel limits interaction between players is Towny. I really hate Towny. I donít think anyone on this iteration of the server has said, ďMan, I really love Towny!Ē (Except when I was taking a bunch of shortcuts while making my arena plugin). Since we are a no-griefing server, the only real advantage with Towny is turning off mobs (which you can do in vanilla with, once again, a large upfront effort: making a mob switch). Every other thing it does is annoying. I canít leave a sign in a town, I canít use pistons inside a town, and I canít fix that one stupid stair on ACagís tower which he is too lazy to fix even though it is obviously supposed to be a full block. It also takes forever to get permissions right if someone wants to help you, as the commands are almost identical to each other (/t vs /town and /towny), and you have to change settings before and after doing things like spawning hostile mobs in an arena and placing fire, which canít be placed if fire is off and, unlike the rest of the world, burns things down if itís on. Additionally, if a mayor goes inactive, other players in the town canít change plot settings until the town dies. Towny also stops me from using shulker boxes, ender chests, and crafting tables wherever I want. This makes it a huge hassle to visit someoneís town. Additionally, I canít leave gifts for people inside the town. Since I have joined, I have wanted to spell out ďGULLIBLEĒ in the sky over someoneís base and see if I can get them to not notice (of course I would take it down after they saw it). But with Towny, I can only do that to a few people, and I donít know them as well and they might not enjoy it.
This might sound counterintuitive at first, but I feel that removing the world border and the resource world would actually lead to more interaction between players. Even though players are more spread apart, they would pass each otherís bases more because they no longer have one place to go to access all of the biomes. So, say that the average player lives close to the center of the world. In order to get a hardened clay, they need to fly (or walk, or ride) northeast. They pass several peoples bases. But in order to get packed ice, they need to go west. They pass a totally separate set of people. Contrast this to the current system, where (if they decided not to teleport) would only pass the same person or two while heading to spawn.
There could also be a limit to how close to spawn you can mine, and how far away from spawn you can set home or sleep (which is broken currently but not too big of a deal because of /home). This means that players mining do not infringe on the landscape players are building in, and players are not so spread out that they do not see each other. This also allows players to access different structures. Some players were upset when the only witch hut and ocean monument were claimed before they joined the server. This isnít too big of a deal because of the spawners and EggCatcher, but farms involving structures are much faster than spawners.
Another thing that I feel the server is missing is a community area, which everyone can build in and players walk through frequently to get to different buildings there. The closest things to that would be the various shop areas around the server, but those are all owned by a specific person, have strict plot requirements, and are commercial only. The other similar areas would be Moon Forest and ACagís town (whose name seems to be constantly in flux). Those are mostly settled by new players who have their only bases there.
On most survival servers this communal area is around spawn. However, our spawn has a large creative build there. While the spawn looks great and I enjoy finding hidden secrets around it, it is currently the most recognizable build on the server, and in my opinion a creative build should not be the most iconic part of a survival server. Additionally, access to the area around spawn is important to technical players. Items from the end return to spawn, where they could be collected by hoppers. Many iron farms only work in the spawn chunks. And if there are any animals without nametags in an area around spawn, all passive mob farms (except for spawner farms, which are must slower) break. An easy solution which I think almost everyone would agree with would be to put the spawn in a separate world, then have one or more portals leading to the spawn point of the main world.
So, thatís theÖ uhÖ first point mostly covered. This is turning out much, much longer than I expected. Anyways, currently the economy on the server is pretty bad. Itís way faster to get money by mining than by selling items. All of the shops are priced so that itís not feasible to buy items in bulk without mining for a while, but itís almost always faster to get an item yourself than to fly to a shop. Additionally, shops always always seem to be out of stock. The root problem behind these is because of how easy it is to get a few of one type of item with spawners.
I personally think that using EggCatcher with spawners is very unbalanced. The ability to change spawners with eggs was added to the vanilla game long after EggCatcher was developed. Because spawn eggs only had one purpose when EggCatcher then, and because spawn eggs are unobtainable in survival in the vanilla game that Mojang added the feature to, itís my opinion that this is unintended behavior.
I created an issue on the GitHub asking for a configuration option for this
, however the developer still hasnít responded. To be clear, in the next few paragraphs, I am suggesting that the spawners are unbalanced, not EggCatcher itself, as entity transport is thoroughly broken in vanilla.
The spawners unbalance the economy because they let players get any item, including rare drops like emeralds and gold and prismarine, in small quantities with almost no effort after building one small farm around the spawner which costs like a few wood blocks, a single magma block, a hopper minecart, and a bucket of water. In my opinion, a ďhealthyĒ economy would require players to depend on each other for different items. For example, I built a really fast creeper farm and I sell gunpowder. Kerm has a fast ocean monument farm and sells prismarine and ink sacs. However, why would either of us buy small quantities of the otherís drops if we could just use a spawner to get a few of the otherís items? Since neither of us buy drops, why did we each decide to build a farm for one item fast enough to supply both of us? Farms are fun to design and build, until you feel that your effort is being wasted. This scales up to the rest of the server, where instead of everyone making a single farm fast enough to supply the farm with an item nothing ends up being bought. Since nobody is buying items from each other, there is less incentive to go to othersí bases.
Additionally, villager spawners seriously unbalance contraptions that require villagers like iron farms and villager trading halls. In vanilla, you can build a villager breeder, but that requires a supply of food and time. With a spawner, you can get the number of required villagers in seconds, where a breeder would take a while to design and build, plus a bit longer to actually spawn villagers. This means that iron farms and the iron they produce are much cheaper than they are in vanilla. Villager trading halls are much easier to stock, and combined with the vindicator emerald drops from spawners which allow you to get books for almost free, enchantments (especially mending) take very little effort to get. I was able to find a spawner, build a villager sorter, and find a Mending villager in under an hour. I now have a free unlimited supply of Mending books with very little effort in getting the villagers.
I understand that we are a intellectual server, more focused on builds and that it should be easier to get building materials as a result. However, these items are much too easy to get. That makes it really difficult to find an adequate reward for events and things, besides non-renewable items like sponges, unobtainable items (which we are banned from using in PvP events, making them pretty useless), and even faster spawners. Also, from the suggestions thread:
Alex wrote:
We could, but we won't. Since we aren't a PvP server we like to keep a level of challenge for our players.ď


Another issue with the economy, which is caused in part by the first issue, is that there is only one buy shop for items on the server. While lapis ore makes a good currency because of how it is impossible to farm and how it is only useful for decoration and making the renewable lapis items, it is frustrating for those who hate mining to try to get money. The lack of trade also means that it is difficult to get money in any other way, although it also means it isnít as big of a deal as money isnít really useful except to pay for Towny.

I realize this has mostly been negative up to this point. Itís not that I have a negative opinion about the server, itís just that this post is focusing on changes that need to wait until the next world reset to avoid breaking things. And stuff that shouldnít be changed from this iteration doesnít really fall into that category. However there are a few things that I think absolutely need to stick around for the next world. First off are the events. I really enjoy participating in both the admin-led events and the events led by ACag (although, I guess those are technically admin led now?). They bring some of the players who donít join as frequently together. Also, every time we use the voice chat for these events, we stay a while afterwards and talk about unrelated things (except ACag, who needs to edit the footage from the event). I hope that we can do events (and voice chats) more frequently in the future.

Okay, I hope at least someone took the time to read all that. If any site admins have not given up reading yet, could you check how this post compares in length to the rest of the forums? Like, is this in the top ten longest posts? Is there a character limit, and how close am I to it? I averaged 110 words per post before posting this, let's see how that changes. EDIT: Only up to 128. Darn. It did take like 10 seconds to post though, a bit odd.

There was a conclusion here asking what you guys thought, but it ended up sounding too much like a YouTube outro again so I deleted it.