Darkblaster

(Posts: 2663)
Superstar Hero, an action-JRPG made in RPG Maker 2003
Last edited by DJ Omnimaga on 13 Jun 2019 12:05:18 pm; edited 1 time in total
(Une version française est bien sûr disponible aussi!)
The year is 9108. Québec City is celebrating its 7500th anniversary. The overpopulated metropolis of 900 millions inhabitants lives an idylic, eccentric, but at the same time, dystopic lifestyle. Peace is about to end, though, as aliens called the Tibestians are now getting ready to wipe us out.
In this satirical and over-the-top action-RPG inspired from Ys and Mega Man, you play the role of a reprogrammed Tibestian robot who is now friendly (although scary for locals) who has to go defeat his master, who has setup a robot-building factory North of the Harlaka District and is now threatening the human race.
It is one of the rare RPG Maker 2003 project to feature real-time action battles without using mods and hacks, too.
Game Download:
https://store.steampowered.com/app/1089080/Superstar_Hero/
Soundtrack:
https://djomnimaga.bandcamp.com/album/superstar-hero-the-original-soundtrack
Original post wrote:
I decided to take another extended break away from programming to revive an old RPG Maker 2003 project I originally started in October 2008: Superstar Hero. The game originally used music from TIMGUL, including some of my songs, but it now only uses my songs, including a newer one.
The game used RPG Maker 2003, which was a not-so-legal fan translation available at the time, but an official one came out in 2015 on Steam, fixing many bugs, so this is what the game uses, now.
I do not use the built-in battle system, I instead use a combination of events, as the game is action-based, like Ys and Zelda series, unlike other RPG Maker 2003 games, which are turn-based like Final Fantasy on the Super Nintendo. You don't level up as you kill enemies, you instead buy upgrades at a shop with the gold you receive. The game focuses heavily on killing stuff rather than exploring, due to some arcade influences.
As for why I used RPG Maker, it's because of my extended break from programming and the fact this project was started with it. As for why I use 2003 instead of VX Ace or MV, well, I prefer the SNES-style graphics resolution from 2000/03 and the Steam version fixes most bugs associated with Windows Vista/7/8/8.1/10 compatibility issues.
The story takes place in Quebec City, in the year 9108. Here is a video of the game in action:
And some screenshots: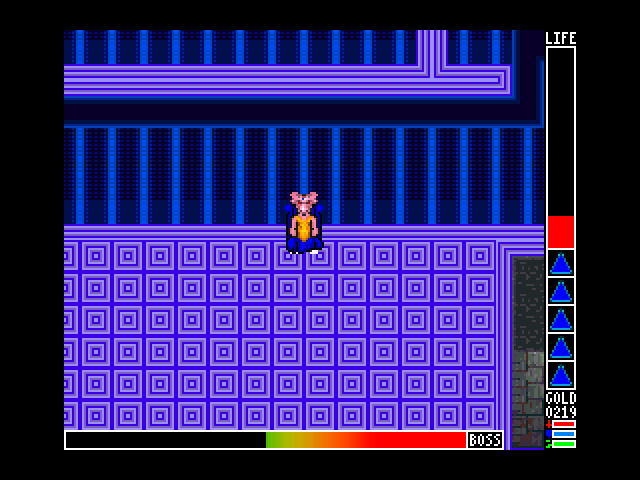 Download link: https://store.steampowered.com/app/1089080/Superstar_Hero/
Soundtrack: https://djomnimaga.bandcamp.com/album/superstar-hero-the-original-soundtrack