Underboss of Cemetech

(Posts: 2778)
Using the GIMP to Reskin Your Site
This is a simple trick, but it bears repeating simply because I wasted so much time figuring it out/using it yesterday.
The other day, I decided the colors on my Livejournal were boring and decided to make them a little more exciting. I was using the default multiplex theme, which is mostly gray and fairly boring. Although I liked the layout and the colors in relation to each other (i.e. the interplay between light and dark gray was aesthetically pleasing), I didn't like the colors themselves. Rather than attempting to design a better theme by hand that maintained the relational aesthetic, I decided it would be easier to take a screenshot of my site with the GIMP and map some gradients to find a good scheme (
Filters --> Colors --> Map --> Gradient Map
). After messing around, I came up with 3 options that I liked: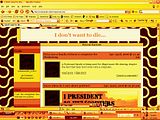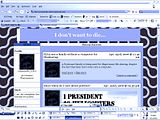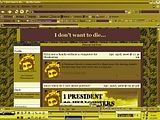 Next, all I had to do was open up the option I picked in Firefox, and then copy and paste the hexadecimal codes into the Livejournal control panel after determining them using the
Firefox Colorzilla Extension (link)
. All in all, I was satisfied with the
result (link)
.