Official Cemetech Cat Manager

(Posts: 1770)
Womp's Prototypes
Last edited by mr womp womp on 24 Jan 2021 12:59:45 pm; edited 3 times in total
EDIT: I decided to turn this into a thread to talk about prototypes more in-depth since I have quite a few now.
As some of you might already be aware from the tiplanet thread, I found and bought a TI-Nspire CX II CAS prototype (DVT1.1). Normally I'd post this type of thing in the collections thread, but I think this warrants its own topic.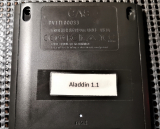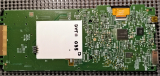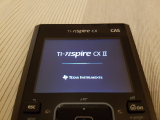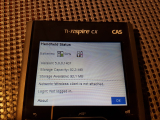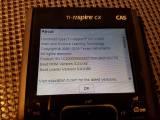 Stating the obvious, its in an old CX CAS case, and there is a piece of paper taped to the back that reads "Aladdin 1.1", Aladdin being the codename for the CX2 series. It also has DVT1.1 CD handwritten on the protective tape under the battery. I have no clue what the "CD" stands for, perhaps someone from TI-Planet might know.
It is in the 'DVT' phase of development as indicated by its serial Number (DVT1100033). It arrived a few days ago and I took a look inside. From the ebay listing, I could see that it was running a CX2 OS because the main menu said "Browse" as opposed to "My Documents". Since the new CX2 OS will only run on CX2 hardware, we already knew it would contain some new hardware. That being said, the inside was rather uninteresting because it was nearly identical to the first mass production CX II boards (revision AE). It was produced in July 2018, which is a few months before the MPs were produced (November 2018) and it contained some hand-written markings, but all major components were the same. This isn't very surprising since the MB labels on MPs contain "DVT", implying that they stem from this phase of prototyping. Unlike the MP models, the more eagle-eyed among you might have noticed that this one has 2 holes drilled into the front of the case which allow easy access to the screws that are normally tucked under the screen cover and require carefully unglueing the front of the calculator to access. This makes disassembly much easier, although like with all Nspire CX, its still not built to be taken apart :LOL:
The software is where things got more interesting, it is running an earlier build than the first production models (5.0.0.1407 as opposed to 5.0.0.1683).
Currently, we know of a few CX IIs produced before MP:
DVT2000175 5.0.0.1288 (T3IC 2019)


DVT1100033 5.0.0.1407 (Mine)


CX II-T CAS Samples from Didacta 5.0.0.1450
MS043 5.0.0.1500 (Didacta)
MS001 5.0.0.1500 (Didacta)
DVT2000211 5.0.0.1500 (Didacta)
DVT-EUR-0032 5.0.0.1624 (Didacta)
DVT-EUR-0190 5.0.0.1624 (Didacta)
Ti-Planet Samples 5.0.0.1509

EDIT (3 new protos with 3 new builds!):



DVT0000031 5.0.0.1359 (Mine)


DVT0000194 5.0.0.1395 (Ti64CLi)


DVT10000088 5.0.0.1372 (Mine)
It is earlier than the samples given out to TI-Planet back when the CX2 series was being released, and earlier than the marketing samples spotted at some conferences last year, However, it is newer than one prototype (labelled 'DVT2') also spotted at one of the European conferences, but that one is of course, not in the possession of anyone in the community. Again, this isn't really surprising since during the DVT phase is generally where a lot of software testing, quality assurance and development takes place, so it should be expected that TI went through a lot of builds in this phase. The boot loader is slightly earlier than the first production models, (5.0.0.82 as opposed to 5.0.0.89).
The one I've acquired seems to be the only one known that hasn't been polished into a pretty case, meaning it was almost certainly actually used for development, rather than marketing. Before anyone asks, I already took a look at the seller on ebay, and it seems to be a wholesaler who buys and sells thousands of random items, so they likely acquired it elsewhere and re-sold it.
Last year, there were some TI-Nspire CXs that were spotted fitted into CX2 cases on ebay which were probably made just as showpieces for conferences. This one is actually the opposite, it is a CX2 CAS fitted into a CX CAS case.
I am in contact with the guys from TI-Planet to try to get a dump. Critor noted that it doesn't have any "Dev unit" mention in the top left corner as it boots up, indicating that it verifies the OS with production keys rather than dev keys. Here is a
link
to his article about it, and here is a link to my
tiplanet album
containing some more images.