Newbie

(Posts: 31)
[Contest #9][Classpad] Physium
Last edited by Cartix on 24 Jan 2013 09:30:06 am; edited 2 times in total
Hi everyone. I'd like to announce my participation to this contest :
I'm going to make a port of the official casio add-in Physium.
My program is based on old source from Vanhoa's Perdiodic Table (I didn't took lots of code, only list of information, in the aim of gain time) and display function
My program won't be perfect because I started it two days ago, so I won't have so much time to make it
More information coming soon
Ps : Sorry for my poor English, but I'm a belgian programmer.
Some Captures :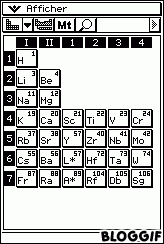 Link to the program :
HERE