Advanced Newbie

(Posts: 72)
[Prizm] Gravity Duck
Last edited by PierrotLL on 07 Apr 2012 09:41:16 am; edited 4 times in total
Hi all, want some Prizm Game ? I publish here a first demo of Gravity Duck on Prizm.
I write this version in November 2011 and since I wait a way to overclock the Prizm. I never published it before because I hoped to publish directly the final version, but KermMartian with his great Tetrizm convinced me.
I still have to make the menu, and animations when the duck appear/disappear or explode.
The big problem is the speed, I have no Prizm so I work on emulator, and the game run with 50FPS, but on-calc, it's only 15FPS. That's why I need overclock.
Update 04/04/2012 - Beta 2
I've added the main menu and the pause menu, and also overclock (thanks to Ashbad).
Overclock is fixed on 94.3MHz, but if you have already a higher frequency, it will be retained.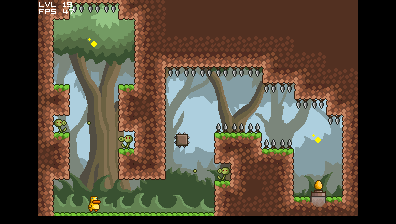 Update 04/07/2012 - Final version
Finally, I tottaly completed Gravity Duck.
Just missing the "growing duck" animation and the fade in/out between levels, but there is not enough memory to load the animation.
More informations on the download page
Download Gravity Duck